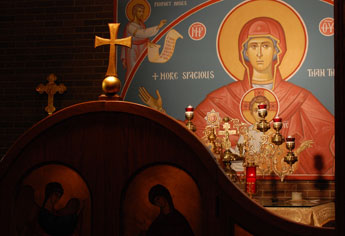 Welcome to the website of St. George Antiochian Orthodox Church of Boston, MA. Our community has been a place for faith and fellowship for over a century. We welcome you to browse the site to learn more about our parish.
We are a parish in the Diocese of Worcester and New England and our Bishop is His Grace Bishop +JOHN Abdalah. We are a Diocese of the Antiochian Orthodox Christian Archdiocese of North America and our Metropolitan Archbishop is His Eminence Metropolitan +PHILIP Saliba.
December 1
St. Philaret the Merciful
Constantinople, Asia Minor (762)

He was a wealthy landed gentleman who lived in the countryside near Constantinople during the reign of the Empress Irene. God had given him great wealth and a large family with which to enjoy his later years in contentment. A true lover of God, he gave without hesitation to all the poor and needy who came to him, and freely offered hospitality to every traveler passing through his lands.   But his fortunes changed dramatically, and after a series of disasters he was reduced to poverty, with only a small piece of land, a pair of oxen, a donkey, a horse, a cow and a calf and a few beehives to sustain himself and his family. Without complaint, he took up the life of a simple farmer, laboring to support his family with his few means.