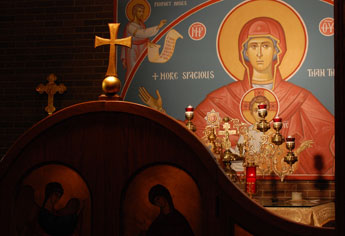 Welcome to the website of St. George Antiochian Orthodox Church of Boston, MA. Our community has been a place for faith and fellowship for over a century. We welcome you to browse the site to learn more about our parish.
We are a parish in the Diocese of Worcester and New England and our Bishop is His Grace Bishop +JOHN Abdalah. We are a Diocese of the Antiochian Orthodox Christian Archdiocese of North America and our Metropolitan Archbishop is His Eminence Metropolitan +PHILIP Saliba.
January 21
Holy Martyr Agnes
Rome (~304)

Born into a noble Christian family in 291, Agnes lived in Rome during the persecution of Christians under the Emperor Diocletian. She was martyred as a teenager. From an early age she devoted herself to chastity (agne, the origin of her name, means "pure" or "chaste" in Greek). Her reputation became so well known that she was sought out by many other women of Rome, whom she exhorted to accept Christ as the one true God, and to honor him by leading a chaste life.