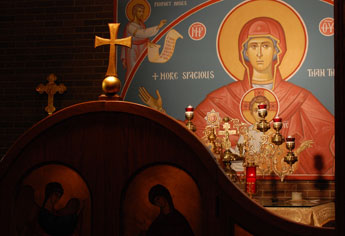 Welcome to the website of St. George Antiochian Orthodox Church of Boston, MA. Our community has been a place for faith, worship and fellowship for over a century. We welcome you to browse the site to learn more about our parish.
We are a parish in the Diocese of Worcester and New England and our Bishop is His Grace Bishop +JOHN Abdalah. We are a Diocese of the Antiochian Orthodox Christian Archdiocese of North America and our Metropolitan Archbishop is His Eminence Metropolitan +JOSEPH (Al-Zehlaoui).
Hieromartyr-st.-babylas-bishop-of-antioch-251 Bishop of Antioch 251

Bishop Babylas succeeded St. Zebinus as Bishop of Antioch during the reign of the Roman Emperor Gordian III (238-244).