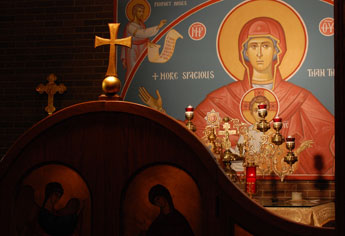 Welcome to the website of St. George Antiochian Orthodox Church of Boston, MA. Our community has been a place for faith and fellowship for over a century. We welcome you to browse the site to learn more about our parish.
We are a parish in the Diocese of Worcester and New England and our Bishop is His Grace Bishop +JOHN Abdalah. We are a Diocese of the Antiochian Orthodox Christian Archdiocese of North America and our Metropolitan Archbishop is His Eminence Metropolitan +PHILIP Saliba.
1914 - 2003
August 4

He was born Andrei Borisovich Bloom on the 19th of June 1914 in Switzerland, where his father was serving as a member of the Russian Imperial Diplomatic Corps. His mother was the sister of the Russian composer Alexander Scriabin. Molotov, Stalin's comrade, was also a relative. Shortly before the First World War, the family returned to Russia, but soon left again for a diplomatic assignment in Persia. His vivid memories of Persian shepherds, "minute against the hostile backcloth of the vast Persian plain" while protecting their flocks, made him a convincing preacher on the parable of the Good Shepherd.